Band News

5/18/17 - Our sympathies go out to the family of our fallen USCGPB shipmate, Scott Grest, who passed away today from a heart attack. We offer our condolences and pledged our support to him and his family. Please keep his wife, Melinda, his brother Mike, and their family in your thoughts and prayers.
4/14/17 - Congratulations to Michael Doria on his retirement from the Coast Guard Reserves.

2/3/17 - Congratulations to Brian shajari on his appointment as Operations Officer. Andrew Bacon asked to be relieved as OPS so that he could focus on Family and work.

12/7/16 - Condolendes go out to Whit Irwin on the loss of his Son. A Go Fund Me account has been established to help with the final arrangements and medical cost incurred for his care. To donate, go to Go Fund Me

7/19/11 - Congratulations to Brian Shajari on his appointment as the new Regional Coordinator for D14.

9/2/10 - Congratulations to Michael Henry on his appointment as the new Pipe Sergeant

8/10/09 - Auxiliary Participation - Article written by Steve Mehal for the Auxiiary Magazine The Eastwind.

5/20/09 - Congratulations to ML Loudermilk on his appointment as the new PIpe Major

4/3/09 - Congratulations to Ken Oberacker on his promotion to Chief Petty Officer. His CCTI will be on May 1st, 2009

3/10/09 - Congratulations also go to CDR Keith Johnson for his selection as the NEW C.O. of PSU 307

3/5/09 - Cadet Andrew Bacon will be graduating from the academy this year and has received word that he will receive orders to Flight School upon detachment from the Academy. Congratulations Andrew!!

3/4/09 - LT Dan Sweigart will be transferring this summer to the tropical State of Hawaii, so for the first time we will have a Piper to extend our serviced to the 14th District.

2/3/09 - Having returned from Iraq working as a Fire Fighter, Piper Michael Lacey from Charleston, SC, provided this clip of himself in a battle zone adaptation of the Uniform performing at the Marine Corps 230th Birthday Celebration held inside Saddam's Palace.USMC 230th Birthday Celebration in Iraq Bravo Zulu Mike!!

1/28/09 - LTJG Doria working as the interim Color Guard Coordinator has been working with CDR Anderson to put together a Color Guard that will be ready for the streets at Grand Haven 2009. LTJG Doria canvased the current roster of Members listed as Color Guard and recruited several new members. Our New Color Guard will be LTJG Andrew Cook USCGR from Sector New York; YN1 Jonathan Eudy, USCG from SFO SW Harbor, ME; CDR Keith Johnson, USCGR from ISC Portsmouth; YN2 Kathleen Leslie, USCGR from SFO Moriches; FSO Michael Goodwin USCGAUX from Flotilla 053-04-09 in Pennsylvania, Mitch Paine, USCGAUX from Hingham, MA and Jim Shingleton USCGAUX from Trenton, MI

9/11/08 - Inside Ground Zero - An Auxiliarist Very Personal Journey an article written by the Steve Mehal, reprinted with permission from the Navigator, a Coast Guard Auxiliary Periodical.

8/23/08 - Piper Ensign Doria feature in this 1st District Public Affiars Release on Youtube

6/24/08 - Congratulations to Timothy Marriott at Sector Delaware Bay who was recently promoted. See the article at Piersystems.com

3/17/08 - The largest contingent of the Coast Guard Pipe Band thus far converged on Staten Island, NY in preparation for a Marching performance in the 2008 Saint Patrick's Day Parade down 5th Avenue in New York City. To date, this was the largest logistical project undertaken by the band with 33 performing members from all over the Country. Capt. Harry Dudley and his wife ZoeAnn win the award for the furthest traveled, coming from the Seattle, WA area. Each individual was responsible for their own transportation getting to New York. However, once everyone was in town, there were significant logistics necessary for picking up members from various transportation hubs, lodging establishments and moving the band members and their guests around the city for practices, dining and performances. In order to get people from the various airports and railway stations, LCDR Angela Cooper from Sector Deleware headed up the logistical planning for transportation. Personnel from Sector Delaware River and Sector NY volunteered to be duty drivers. Sunday, March 16th, was the established practice time. Everyone converged on the Sector NY Gymnasium and had an all day practice to fine tune tempo and expression for all the selected tunes, for Monday was to be the big event. Monday started early. Everyone assembled in the lobby of the Navy Lodge while the caravan of vehicles prepared for transporting all the members, guests and equipment. The Caravan (of several Vans and Sedans), was escort by NYC's Finest across town from Staten Island up to O'Lunney's at Times Square, just a few blocks from the starting point for the Parade. What an experience that was. We feasted on a traditional Irish Breakfast with Eggs, White & Black Pudding, Beans, etc. While we were eating, LCDR Whit Irwin, strolled through the establishment playing tunes on his smallpipes. Several members were asked to play a few tunes for the other patrons on the Highland Pipes. Then we headed out into the street to get the instruments warmed up and tuned. Tuning was accomplished in two groups to make things go quicker. Then we lined up for the step off onto 5th Avenue. Marching off and turning onto 5th Avene was quite a spectacle. Thousands of people lined the streets, all cheering for the Bands as they melded into the stream of parade units. The Parade started around 44th street and ended around 82nd street. What a fantastic experience. After the end of the parade, we walked back to the vehicles and were transported to the 7th Regimental Armory where the NYC Fire Fighters have their annual after party celebration. After a photo opportunity, in the Armory, entrance, we assemled once again and performed for the attendees of the after party. from there, the logistis continued to get people back to the Navy Lodge on Staten Island, and some to the Airport. Many band members retreated to an impromptu afterparty of their own at the hotel with a variety of beverages, pizza, ribs & wings. Tuesday, the ever diligent duty drivers were there to transport people back to hotels & train stations while others stayed longer to do some additional sight seeing in NY. A Great Time was had by all.

2/23/08 - Members of the Coast Guard Pipe Band attended and performed at the Northeast Florida Highland Games (aka The Jacksonville Games) held at the Clay County Fairgrounds, outside Greencove Springs. What started out to be a dinner for a few on Friday evening ended up being dinner for everyone at a locals spot that came highly recommended, J.L. Trent's. J.L. Trents is a popular small seafood house know mostly to the locals. They don't take reservations, so when 15 people showed up for dinner, they were a bit caught off guard. We waited paitently and had a wonderful meal with wonderful service. If you ever find yourself near the Jax Naval Air Station, check out J.L. Trents near the Commercial Gate of the Air Station. Saturday started out a bit rainy, but the weather cleared up nicely and everyone had a great time. We performed at the morning opening ceremonies, then enjoyed strolling through the vendor tents, watched the Competition Bands, Pipers, Drummers, & Dancers. Later in the afternoon, we went to the Clan Tents and played for several of the Clans, including Alexis Malcolm, our Kilt Maker. Later we performed at the closing ceremony Massed Bands. Saturday evening, thanks to the hard work and efforts of Laura farmer, her husband Chuck and several other members of her Flotilla 14-2, we were the recipients of a great catered dinner at the Host Hotel. Seating assignments were made so that most everyone was seated at tables where they did not know anyone, so we could meet and make new friends. After Dinner, Art Tenney, ML Loudermilk, Steve Rogers, Dan Titus and Mike Henry entertained the crowd with some kitchen piping. Pam Wright's Son also played a few tunes on the Pipes for us.

Pipe Sergeant Senior Chief Petty Officer Steve Cochran (standing in front of helicopter, with Ashton Kutcher to his left) appears during the last ten minutes of the recent movie, The Guardian

.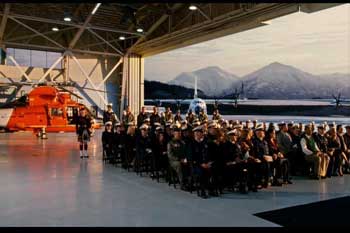 Jeff Burton attends CG Station Chatham reunion and Veteran's Day Memorial Service wreath laying ceremony at Arlington National Cemetary. Read complete Report [.pdf.] See ANC photos of Jeff, Steve Cochran, and Chet Strait in 'Event Photos.'

Pipe Sergeant Senior Chief Petty Officer Steve Cochran plays 'Amazing Grace' during presentation of the flag at Silent Thunder Memorial for Freedom candlelight vigil, Manassas, Va., June 28, 2006. Photo by Rudi Williams. See photo in 'Event Photos.'

M. L. Loudermilk performs the opening and closing at USCG Auxiliary District 7, Division 2, Change of Watch Ceremony, Ft. McPherson , Atlanta, GA, January 7, 2006. Present, representing the USCG, were CDR Kevin Crawley and Lt. Randy Brown. Representing the CGAux. was RCO-N Ed Callahan. About 60 people attended. [Read complete Report (.pdf)]

U.S. Coast Guard Pipe Band performs at 2005 Coast Guard Festival, Grand Haven, MI After Action Report by CWO3 Michael Henry, CGD9 Regional Coordinator, USCG Pipe Band...[Read complete Report ( .pdf) See photos in 'Event Photos.']

U.S. Coast Guard Pipe Band piper Capt. Bruce McQueen greeted guests at a combined COC/retirement ceremony in Anchorage, Alaska, July, 2005. [Read the17th District press release....and this article in Military.com...More photos in 'Event Photos' page...]

U.S. Coast Guard Pipe Band played during the naming ceremony at Station Kings Point, N.Y. Sept. 5, 2003. [ Read more.... ]

U.S. Coast Guard Pipe Band, Inc.
Suite 203
201 South 2nd Street
Fort Pierce, FL 34950